· Home

Downloads
· MP3 and Audio
· Multimedia, Graphics
· Internet
· Business and Office
· Games
· Utilities and Files
· Spy Software
· Home and Hobby
· Development tools
· Education

Tools
· Forum
· Search
· Feedback
· Users
· Link to Us
· Term of Use
· Free Skins

Submit
· Submit Soft






---
---
IP Watcher v3.0.0.924
IP Watcher is a powerful application that monitors your public and local IP address. If your IP address changes it will send an email or SMS Text Message alert containing the new WAN IP address. This alert also includes the computer name, local ip address and time the change occurred. This is useful for computers that have dynamically assigned IP addresses, but need to be accessed remotely. Works great for Windows XP Remote Desktop, PC Anywhere, etc... IP Watcher also has an icon that sits in the windows system tray area that can be clicked to view the status or right clicked for a configuration menu. Version 3.0 runs as a Windows Service, no need to be logged in to the computer! Don't be left out in the cold again, take control of your remote access via IP address monitoring with IP Watcher! Features - Details: Notification of changed IP address Not only can IP Watcher detect a change in an IP address, but it can also notify you via email or sms text message if this occurs. This is helpful if you are trying to access a remote computer whose IP address has changed. Configure IP Watcher to notify you and you will be able to continue to access the remote computer. Email Alert Notifications IP Watcher can send notification emails when it detects an IP address has changed. You may configure email settings to use a built-in emailer or configure for your SMTP mail server. IP Watcher provides background sending of these notification emails so you will know when an address changes and still be able to access a remote system. NEW - Mobile Text Message Alerts IP Watcher can send a SMS Text Message alert to your mobile phone or device when it detects an IP address has changed. Simply enter your mobile phone number and select your wireless carrier. IP Watcher provides background sending of these notification alerts so you will know when an IP address changes and still be able to access a remote pc computer.
---
The developer of IP Watcher v3.0.0.924 program is Gear Box Computers. The type of license is Shareware $9.95. Supported operating system is WinXP,Windows2000,Windows2003, If you like this program, you can visit the official website of the developers via this link: Gear Box Computers. On the official develepers web site you can find more links for download, more useful information about IP Watcher v3.0.0.924 and download the latest version.

If you have any problems with this IP Watcher v3.0.0.924 you can contact the developers Gear Box Computers. To do this, visit the official site of the program or read the help file. Very often, the contact information can be found in a special dialog "About".

This program can be used for IP Watcher and Public IP Address. You can find more information on a Gear Box Computers IP Watcher v3.0.0.924 homepage. Many users use this program in Remote or Dynamic IP Address Monitoring. The software is designed to Change and maybe used as Update. Good interface and many functions for Email. The basic dirrection is SMS Text Message. Developers of IP Watcher v3.0.0.924 have tried and made the program for Local IP. Some special options will help you in Computer Name. There are some useful features for Software.

Maybe official website of this program has on-line documentation for IP Watcher v3.0.0.924 and maybe you can free download the official help file. Unfortunately we do not have accurate information.

Before you download and try the IP Watcher v3.0.0.924 program, you can see a screenshot of the IP Watcher v3.0.0.924. The picture shows the main program window, and all major interface elements. On this picture you can pre-assess the quality of the program. Usually, the screenshot shows the main advantages of the program. Screenshot - is the "face" of the Gear Box Computers IP Watcher v3.0.0.924 program. Very often, you can determine your decision: you will like such program or not - by the screenshot of the program.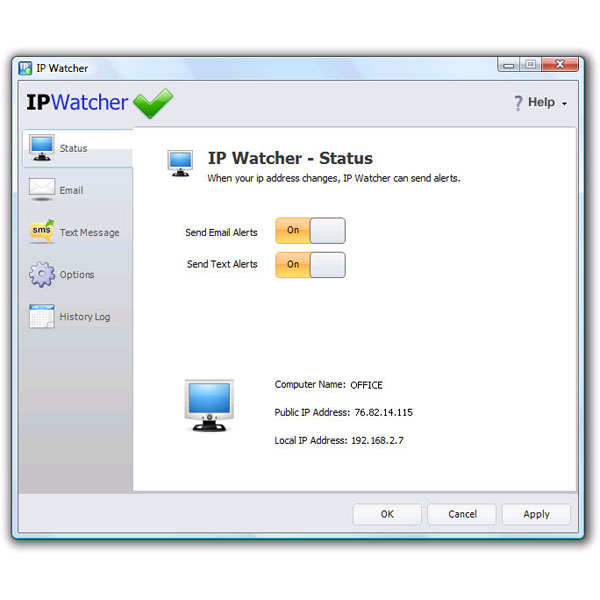 This is official screenshoot of the IP Watcher v3.0.0.924 from developer: Gear Box Computers
---
---
---
Recommended software
SpyBuddy - spy software and computer monitoring product for monitoring spouses, children, co-workers, or just about anyone else!
Realtime-Spy allows you to remotely install the software on any computer as well as view the log files from anywhere in the world via your own personal Realtime-Spy webspace..
iSpyNOW - remotely deployable computer monitoring application. iSpyNOW is first of its kind - offering users the ability to remotely monitor...
Modem Spy - Record phone calls. Convert telephone conversations to MP3. Record messages from microphone like dictaphone, Voice Activated Recording option available..
AirNav Systems Pro - Have you ever wondered that it is possible to track in realtime any flight over the USA, Canada and other regions of the world with just an Internet connection..
TreeDBNotes Pro: PIM, Word Processor, E-book maker, Contacts and Passwords manager with Tree Structure, password protection. Import / Export (txt, html, xls, doc) and more...
Abander TagControl mp3, ogg, wma, asf, flac, mpc, aac, and ape-2 Tag Editor. Batch tag editing, rename files, web-grabber (album, lyrics). Filename to Tag, Rename files, Search, Replace, Import, Export and more..
---