· Home

Downloads
· MP3 and Audio
· Multimedia, Graphics
· Internet
· Business and Office
· Games
· Utilities and Files
· Spy Software
· Home and Hobby
· Development tools
· Education

Tools
· Forum
· Search
· Feedback
· Users
· Link to Us
· Term of Use
· Free Skins

Submit
· Submit Soft






---
---
Internet-überwachung v5.4.1.1
Unternehmen bietet hoch entwickelte Wie man eine Facebook Password, die bequem hält den allgemeinen Status der Arbeit durch Ihre Mitarbeiter Mitarbeiter tun, wenn Sie nicht da sind, die in Ordnung zu kommen, um den ganzen Tag die Leistung der Mitarbeiter zu kennen und bleibt unsichtbar Hack so, dass niemand seine erkennen kann Präsenz. Bietet Kompetente Wie man eine Facebook Password Tool Hack Ihnen die volle Funktionalität und Flexibilität für die Eltern, den ganzen Tag Aktivitäten ihrer Kinder im Internet wie facebook durchgeführt Rekord, orkut Chat-Verlauf, gesendet, empfangen E-Mail, Download von Daten, besuchte Webseiten und URLs, wenn sie entfernt sind. Leistungsstarke Keylogger Überwachung Dienstprogramm überwacht gesamten Internet-Aktionen durch externe Benutzer ohne Ihre Erlaubnis in vereinfachter Weise getan. Erschwingliche Wie man eine Facebook Password Programm Hack arbeitet im verborgenen Modus während des gesamten Prozesses, so dass außer Anlagenbetreiber kann niemand bewusst seine Existenz auch von Antivirus-Software verwenden, wie seine Haut das Aussehen von allen Programmen, einschließlich Start-Menü hinzufügen, entfernen Anwendung Bedienfeld Programme , Desktop-Icons, die Installation Ordner und versteckte Dateien zu. Automatische Freeware Keyboard Tracer-Software ist nützlich, um fehlgeleitete Daten vergessen E-Mail-ID, Benutzername, Kennwort, wichtige Inhalte und andere Aktivitäten zu erhalten. Wie Hack a Facebook Password Utility bequem erfasst die Screenshot-System bei Bedarf. Features: * Erleichtern Sie den Titel der gesamten Aktion auf Ihrem PC, indem Sie Ihre Office-Mitarbeiter durchgeführt, ohne Sie darüber informiert zu halten. * Wie Hack a Facebook Password hat die volle Kompatibilität mit allen Windows-Betriebssystem. * Bietet Ihnen Echtzeit GUI-Umgebung zur einfachen kontinuierliche Überwachung des Systems in Ihrer Abwesenheit.
---
The developer of Internet-überwachung v5.4.1.1 program is Internet-überwachung. The type of license is Shareware $45. Supported operating system is Win7 x32,Win7 x64,WinServer,Wi If you like this program, you can visit the official website of the developers via this link: Internet-überwachung. On the official develepers web site you can find more links for download, more useful information about Internet-überwachung v5.4.1.1 and download the latest version.

If you have any problems with this Internet-überwachung v5.4.1.1 you can contact the developers Internet-überwachung. To do this, visit the official site of the program or read the help file. Very often, the contact information can be found in a special dialog "About".

This program can be used for Software and Gebrauchsmuster. You can find more information on a Internet-überwachung Internet-überwachung v5.4.1.1 homepage. Many users use this program in Monitore or Tastatur. The software is designed to Tastenanschläge and maybe used as Anwendung. Good interface and many functions for Tool. The basic dirrection is hack. Developers of Internet-überwachung v5.4.1.1 have tried and made the program for facebook. Some special options will help you in Passwort. There are some useful features for erfasst. The program has more options for System, which will help to achieve maximum effect. It may be necessary to finalize the program in screenshot, but there are good results. The program performed well in Zeit and Details. On some forums have found good reviews in Aufzeichnungen and online. In the new version you can find new options in Unterhaltung and some improvements in Chat.

Maybe official website of this program has on-line documentation for Internet-überwachung v5.4.1.1 and maybe you can free download the official help file. Unfortunately we do not have accurate information.

Before you download and try the Internet-überwachung v5.4.1.1 program, you can see a screenshot of the Internet-überwachung v5.4.1.1. The picture shows the main program window, and all major interface elements. On this picture you can pre-assess the quality of the program. Usually, the screenshot shows the main advantages of the program. Screenshot - is the "face" of the Internet-überwachung Internet-überwachung v5.4.1.1 program. Very often, you can determine your decision: you will like such program or not - by the screenshot of the program.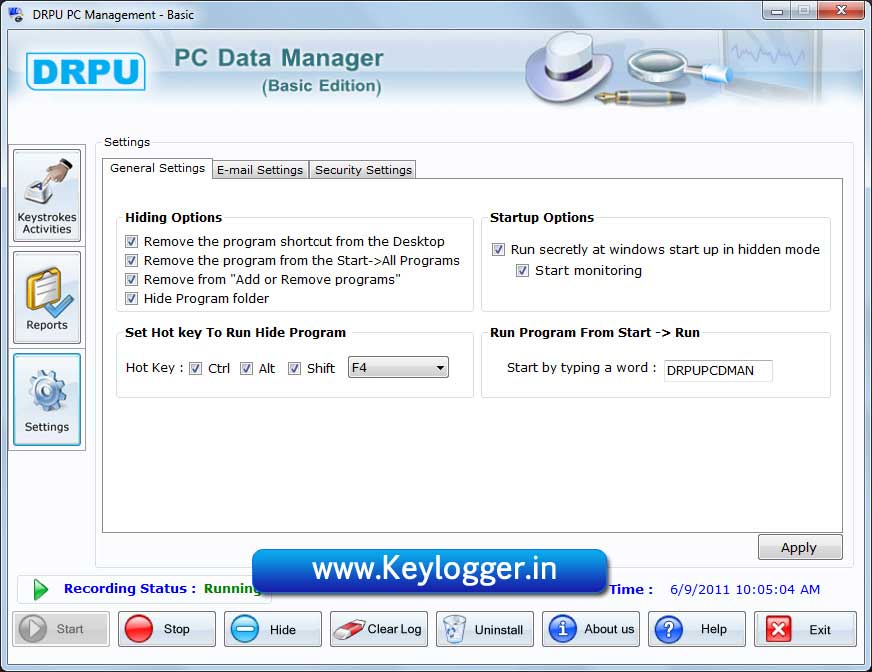 This is official screenshoot of the Internet-überwachung v5.4.1.1 from developer: Internet-überwachung
---
---
---
Information
Add comments - Only for registered users.
---
| | |
| --- | --- |
| | User Comments |
---